My Beer Year
Adventures with Hop Farmers, Craft Brewers, Chefs, Beer Sommeliers, and Fanatical Drinkers as a Beer Master in Training
As a journalist spurred by curiosity and thirst, Lucy Burningham made it her career to write about craft beer, traveling to hop farms, attending rare beer tasting parties, and visiting as many taprooms, breweries, and festivals as possible. With this as her introduction, Lucy decided to take her relationship with beer to the next level: to become a certified beer expert. As she studies and sips her way to becoming a Certified Cicerone, she meets an eclectic cast of characters, including brewers, hop farmers, beer sommeliers, pub owners, and fanatical beer drinkers. Her journey into the world of beer is by turns educational, social, and personal—just as enjoying a good beer should be.
My Beer Year is available everywhere books are sold, including IndieBound, Amazon, Barnes & Noble, and Powell's.
"What a difference a beer makes! Lucy Burningham's journey from beer-curious to certified expert takes us inside craft breweries, hop yards, festivals, and home brewing circles. Part history, part travelogue, and part tasting notes, this charming, beer-soaked memoir is a must-read for anyone who ever ordered a pint and wished they knew more."
– Amy Stewart, Author of The Drunken Botanist: The Plants that Create the World's Great Drinks
"Learning about beer can be delicious but daunting. Thankfully we have Lucy Burningham's bold new book to guide us. Her engaging and witty voyage into the most exotic beer styles reveals not only the mysteries of these innovative brews but Burningham's own curious, fearless, and ultimately triumphant voice. Enjoyable, illuminating, and smoothly written, MY BEER YEAR whets a mighty thirst."
– Christian DeBenedetti, Author of The Great American Ale Trail, co-author of Beer Bites, and Founder of Wolves & People Farmhouse Brewery, Newberg, OR
"We all come to expertise bit by bit, pulled forward by the curiosity of discovery. Lucy Burningham takes us on her own journey in a story that functions at once as an introduction to and loving memoir of beer. I was particularly drawn to her experiences as a woman entering this masculine world; her observations offer a fresh perspective we rarely encounter in books about beer."
– Jeff Alworth, Author of Secrets of the Master Brewers and The Beer Bible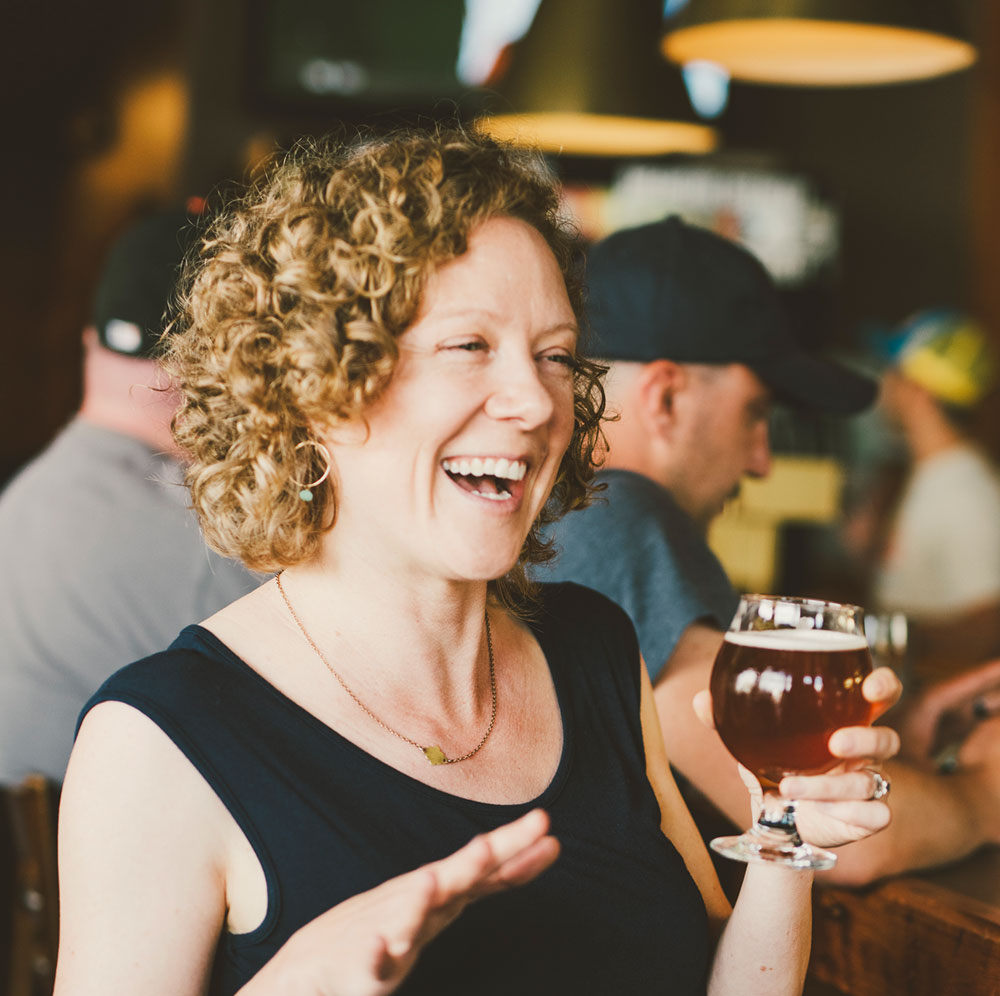 Lucy Burningham, Author
Lucy Burningham is a writer who's covered beer, food, and travel for a variety of
publications, including Sunset, Imbibe, The New York Times, Wall Street Journal,
Bicycling, Saveur, Bon Appetit, and the BBC.
She is the co-author of Hop in the Saddle: A Guide to Portland's Beer Scene by Bike (Into Action Publications), and her latest book, My Beer Year: Adventures with Hop Farmers, Craft Brewers, Chefs, Beer Sommeliers, and Fanatical Drinkers as a Beer Master in Training (Roost Books) comes out in October 2016. She has contributed to Lonely Planet guidebooks to the Pacific Northwest and Ecuador, as well as Food Lover's Guide to the World.
---
She earned a master's degree in creative nonfiction writing from Portland State University and is represented by the Tessler Literary Agency.